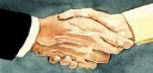 Turning Neighbors into Clients – Finessing the Conversation
Mark works as a financial advisor with one of the leading firms in the financial advisory industry. Having worked as a financial professional for several years, Mark had acquired comprehensive knowledge and skill making him a star performer with an impressive portfolio of clients.

Challenge
Mark identified a wealthy neighbor as a prospective client. Despite his past achievement and successes coupled with the knack to close deals, he was particularly uncomfortable approaching his neighbor to open an investment account. Mark had a good rapport with his neighbor but had never discussed issues bordering on finances. He didn't want to come across as nosy or inquisitive.  Notwithstanding Mark's reservations he was determined to win his neighbor over. Mark contacted us…
Read More
Solution
We coached him on how to strategically build trust over several conversations. We honed Mark's relationship-building and communication skills through sessions which emphasized on asking the right questions in the right order. This resulted in developing and deepening the relationship he has with his neighbor.
Result
Our coaching sessions with Mark helped him to ask the most uncomfortable questions in a way that made his neighbor open up more. Not only did his neighbor open an account worth $3 million but a long-term relationship was established.